Examination Management System Software
AcademyDesk Cloud based Examination Management system covers almost all the activities related to examination management right from receipt of Enrollment Forms and/or Examination Forms through the processing of Results and Printing of Certificates and Statistical Reports. This Examination Management Software is a boon for teachers, professors and school & college management who spend hours on making question papers, scrutiny of answer sheets, evaluating results and preparing report- cards of thousands of students. Colleges can also carry out weekly or monthly chapter-wise online exams and assess the overall class performance. Teachers who learn to operate Examination system can teach more efficiently and give special attention to students in their day-to- day learning process.
Online examination management solution is an economic way to assess and enhance the students' academic performance as they can also take up multiple mock tests prior to appearing for any major competitive exam in any distant locations without being physically present at the exam location. This system can be customized according to the individual school or college needs and ensures effectiveness in the performance of schools as well as their students.
You can make the mark sheet subject-wise and prepare the report card or card sheet in button click.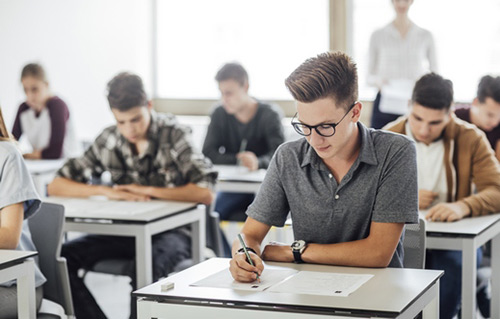 Online Examination System for Marks based and Grade based system: The system is able to handle large volumes of data with proper backup. It permits multiple users. This module can configure end number of colleges, courses, mediums of instruction, subjects of various courses and types of examination. Users are : Students (college students, external or ex-students), College staff, Examination centre, University enrolment members, Examination staff and officers, University paper evaluators
Basic Operational Functionality of School/College/University Examination Management System:
Application for enrolment
Payment of various fees
Printing of examination hall tickets
Results / mark sheets can be viewed online
Application for Revaluation
Completion of Degree
Application for Transcripts and Degree
Degree / Transcript verification
Application for Migration certificate